Did you know that one of most overlooked areas of a home that requires regular annual maintenance is the garage door.
In order to preserve the life and operation of your garage door and automatic opener it is important to receive and maintain annual service – lubrication, balance and 25-pt. visual inspection. This maintenance may be necessary more often depending on the frequent use of your garage door and automatic opener.
Has it been a year or longer since your last service? Can you check "yes" to any question listed below under our Garage Door Check List? If so, call now to make an appointment.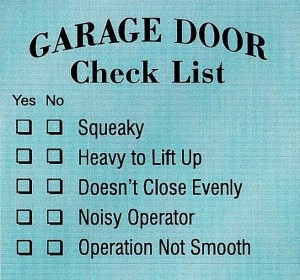 Does your garage door sound similar? It may be time for maintenance.